Slice Fragmentation
This tool allows you to divide an object into small pieces of cubic shape.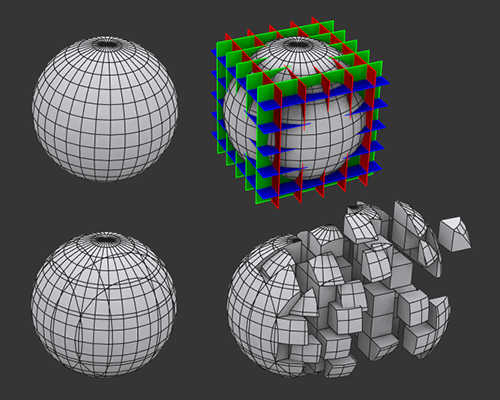 Pick Object
Specify the object. After specifying the object, cutting planes will be created inside it.
Count
Number of cutting planes on each axis.
Random offset
Random shift of planes.
Seed
Specifies a new random shift direction for each plane.
Select
Select cutting planes.
Preview.Scale
Specifies the scale of the cutting planes.
MatID (inner polygons)
Specifies the material id on the inner polygons.
Clear smoothing groups
Clears smoothing groups after fragmentation.
Volume Slice
If enabled, fragments will be created within the object after cutting.
Cancel
Close the tool window.
Apply
Start cutting.