Direction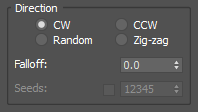 Direction
Direction of rotation of the polygons.
CW

- Clockwise.

CCW

- Counter-clockwise.

Random

- Randomly.

Zig-zag

- Alternating clockwise and counter-clockwise.
Falloff
Sets bend smoothness. Smoothness depends on the number of polygons. With a large number of polygons, it is recommended to increase this value.

Seed
Sets a new initial random direction of rotation.